Employment Numbers Continue to Slide but Job Postings Increase
TWIG
10 June 2020


According to Stats Canada's May Labour Force Survey (LFS), Toronto CMA has now lost over 500 thousand jobs in the last three months since the COVID-19 pandemic was declared. There is some solace in the fact that the rate of job loss has declined. Furthermore, the LFS data captured the employment picture as of May 10 to 16, and does not capture the recent re-opening measures in Ontario.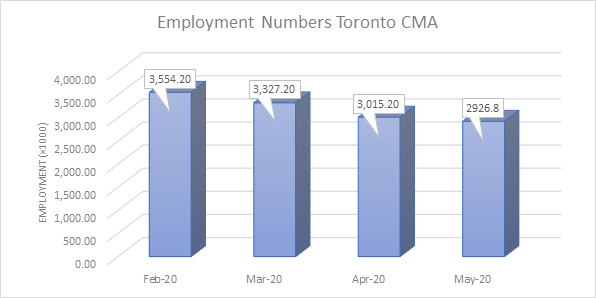 The unemployment rate in Toronto CMA stands at 15.4%, but may in fact be much higher due to the way the LFS reports data. If a person lost their job but didn't look for another, they are not included in the labour force, making the unemployment rate look lower than it otherwise would.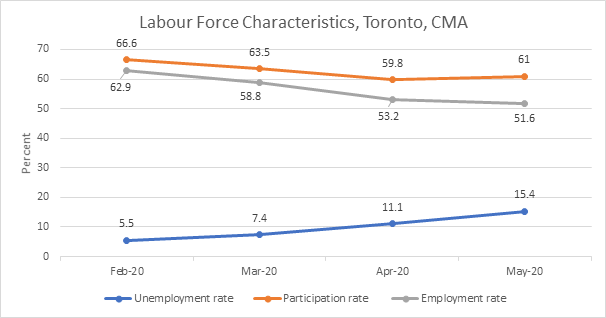 Job posting data provides a more optimistic note for Toronto's economy and labour market. There has been a steady upward trend in the number of online job ads posted over the past several weeks, which indicates that as Ontario re-open's its economy is having positive effects on the labour market.
Three Toronto employment sectors hardest hit by the pandemic are responding differently over the past several weeks. Job postings for retail employment have nearly doubled over the past four weeks, while hospitality and cultural employment postings have remained stagnant. The numbers would appear to reflect re-opening measures taken by the Federal and Provincial government.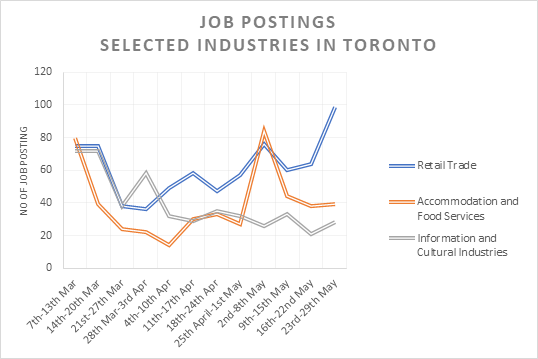 While the slowing of job loss and increase in job postings are positive signals that Toronto's economy is set for a rebound, there is still reason for concern and additional shocks. Several Canadian Banks and credit risk agencies are expecting Toronto real estate prices to make a sharp drop this year. TWIG will continue to monitor the situation.
For more information
Contact: mahjabeen@workforceinnovation.ca

Employment Numbers Continue to Slide but Job Postings Increase